Yokohama

Yokohama Stadium
Yokohama BayStars
Central League

Website: Yokohama BayStars
Date Visited: Sept 4, 2010
Random Notes:
Kirin (Japanese brewer) brews stout and it brews lager, neither of which I particularly like. However, Kirin has a drink called a half and half which one can get draft. It is half stout and half lager and tastes wonderfully delicious.
Beer is sold in vending machines. Yup, just pop four or six hundred yen in a vending machine and get a beer.
Just beyond Yokohama Stadium is China Town.
Yokohama Stadiums seats 30,000.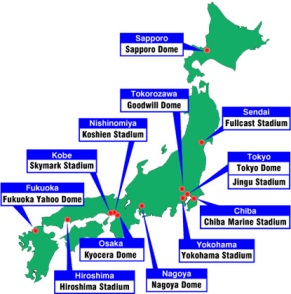 This stadium is one of the five stadiums in and around the Toyko area.

The BayStars remain the only Japanese professional baseball team to not include the name of the parent company into the team name.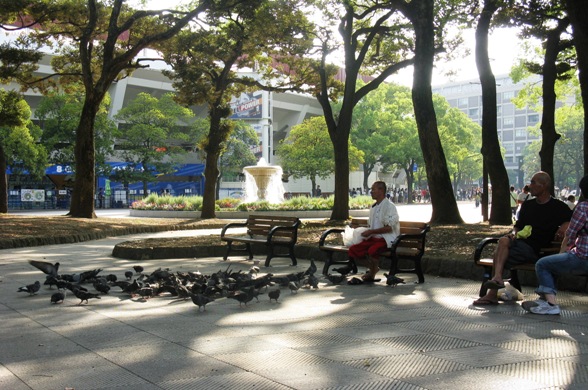 One of the most delightful things of this stadium is the park just outside the stadium.

I sat and watched this man feed the pigeons for a while.

The blue and white structure beyond the fountain is the stadium.

The team slogan for 2010 is 'FULL SEASON, FULL POWER, Analyzing Baseball'.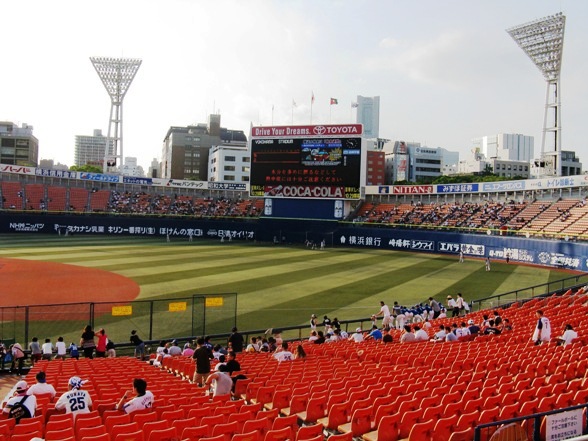 The stadium lights are a different shape - a triangle.
A female announcer - that was prevalent in all the stadiums in Japan.

Like most other stadiums, there were nets down the infield, disrupting view of the game for folks sitting behind them.

The BayStars had an excellent cheering section/crowd. It was one of the better cheering sections/crowd.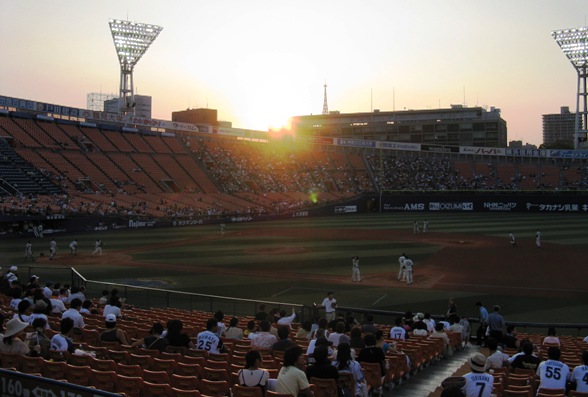 We were treated to a beautiful sunset at this game.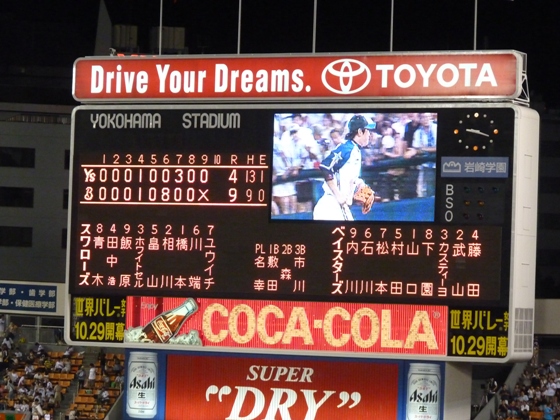 Photo compliments of Vinny Zito



Final Score:
Yakult Swallows = 4, Yokohama BayStars = 9

There were post game ceremonies to witness. Cheering, interviews with the player(s) of the game. Excellent. Most of the tour group I was with did not remain to watch these ceremonies (it is not something that is done in MLB). I was glad I stayed and saw this one.




Japan Home Page
Baseball Home Page
Previous Page
Next Page