Sendai

Kleenex Miyagi Stadium
Rakuten Eagles
Pacific League

Website: Rakuten Eagles
Date Visted: Sept 3, 2010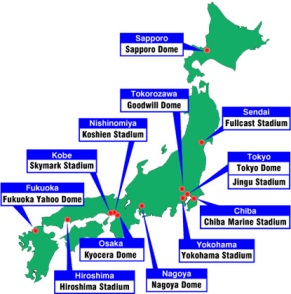 This map states the name of the stadium is Fullcast Stadium but the name had been changed to Kleenex Miyagi Stadium when I was there. Stadium names change frequently in NPB.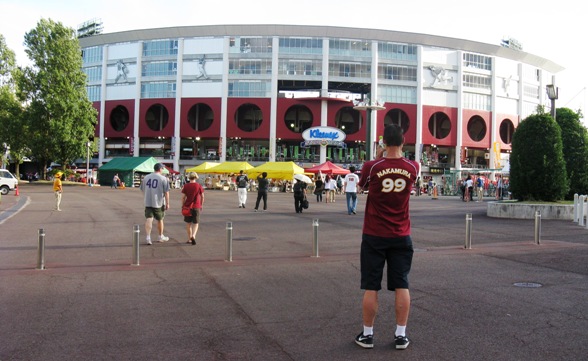 Here is the outside of the stadium. This one was not a dome.
When entering the stadium, security did not check bags. That was so nice.
Lots of food, drink, and souvenir concessions outside the stadium under colorful tents.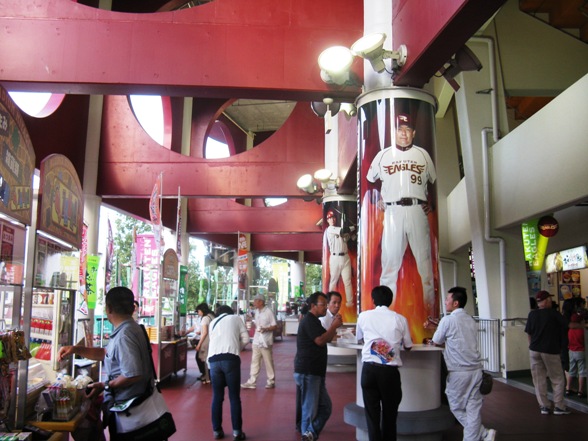 The concourse. Very clean.
The poles in the concourse had posters of the Eagles players. Nicely done.
The poles also served as a 'table' or place to park and eat some food, drink a beverage, and socialize with friends before the game.
The Japan National Anthem was sung here before the game - not all stadiums did that.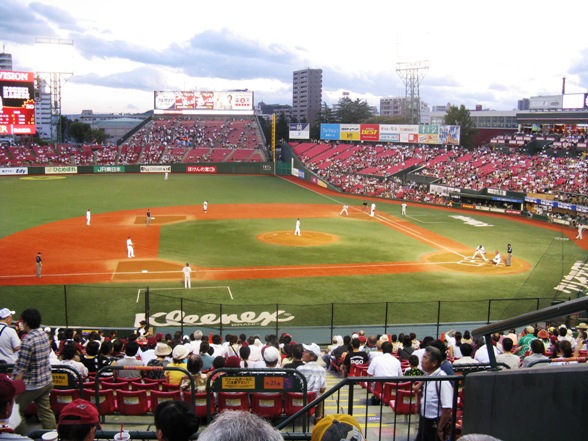 The field.
The bullpens were under the stadium; not on or around the field.
There was a net all the way down the left and right field lines. Ugh. Most stadiums in Japan do that.
All the announcements were made in Japanese and rightfully so.
Japanese fans actually collected their garbage and deposited it in the waste cans on the concourse. In some stadiums, individuals would come around with big plastic bags to collect the trash.

In others, there would be individuals holding big plastic trash bags at the doors where fans would deposit there trash. And, 99% of the fans did exactly that. It was fantastic.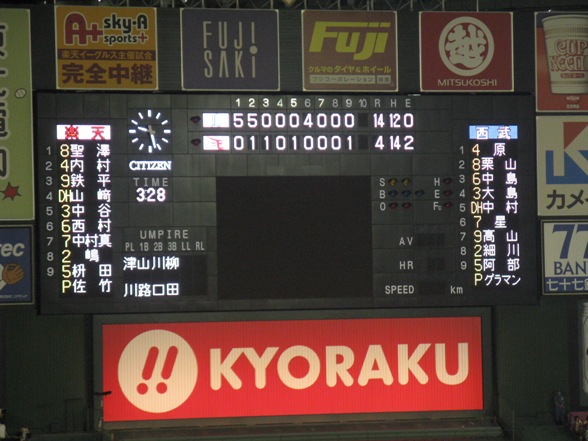 Wow, the game. Seibu Lions vs Rakuten Eagles.
First inning, one hit - 5 runs including a grand slam by Lions batter, Nahamura.
Second inning, five more runs by the Lions. The starting pitcher for the Eagles got pulled in the second after the third run of that inning.
26 hits total in the game.
It lasted 3 hrs 28 min.
Final Score: Seibu Lions = 14, Rakuten Eagles = 4




Japan Home Page
Baseball Home Page
Previous Page
Next Page