Email - 7/23/10
Friends and Family -

Balloons

Colorful balloons are released to celebrate the game. I hope I get to do that.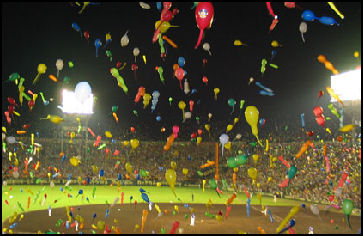 After the game
Apparently, fans stick around and listen to interviews with the players, broadcast at the stadium public address system. Thatís right up my alley!
Very nice.
I remember the G-Braves trying to do that but most fans didnít stay to listen.
Rivalries in NPB






VS






Hanshin Tigers and Yomiuri Giants
The Yomiuri Giants are kind of like the NY Yankees (many pennants and titles)
and the Hanshin Tigers are similar to the Boston Red Sox (a few pennants and titles)
Both teams have been in the league since 1936.
There appears to be a similar rivalry.
Japan Home Page
Baseball Home Page
Previous Page
Next Page